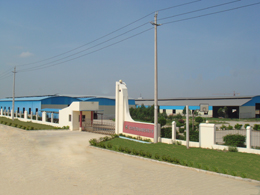 As a high-technology company, Hengxin Advanced Materials Limited employs more than 200 workers and technicians, and we are engaged in researching and producing the rare earth materials, sputtering targets, evaporation materials to the world-wide market with high quality and competitive prices.
Based on our advanced solvent extraction and separation techniques, Hengxin Advanced Materials Limited can produce the whole spectrum of rare earth oxides, such as yttrium oxide, yttrium-europium oxide, europium oxide, lanthanum oxide, terbium oxide (including cerium-terbium oxide, lanthanum-cerium-terbium oxide), samarium oxide, neodymium oxide, dysprosium oxide, erbium oxide, ytterbium oxide, as well as cerium-zirconium oxide, which is being used as a catalytic converter for auto's exhaust gases, has been produced in our company under the on-line monitoring and control system.
Hengxin Advanced Materials Limited has advanced production technology and environmental protection technology in mineral dressing, smelting or separating ,electrolyzing kinds of metal and rare earth phosphor powder. Our products include rare earth concentrate,kinds of single or mixed rare earth compounds,kinds of rare earth metal , rare earth phosphor powder and energy saving lamps.
Hengxin Advanced Materials Limited possesses integrated production lines, advanced production equipments, and advanced testing equipments. Our advanced manufacturing technique and scientific management system can guarantee the high performance of our products.

Hengxin Advanced Materials Limited appraises and selects suppliers according to the standard of their QCDS (Quality, Cost, Delivery, Service) and QSTP (Quality, Service, Technology, Price). Our standards are high and we insist on equally high standards from our suppliers so that we can guarantee the exceptional quality of our products.
Each batch of our products will be inspected to ensure stable quality.

Stable product quality and reasonable prices are our constant commitment.
============================================================================================ Hengxin Advanced Materials Limited
Add: NO.38 Qidu Road, Yangluo Street, Xinzhou District, Wuhan City, Hubei Province, China
http://www.hengxinmaterials.com/ SiteAdmin: 鄂ICP备09008408
Phone:0086-13720187211, 0086-027-89628068, Fax: 0086-027-89628068
MSN: taowenhua_cn@hotmail.com Skype: taowenhua928
Google talk: macheng772@gamail.com Yahoo messenger: taowenhua@yahoo.cn
Email: sales@hengxinmaterials.com, , taowenhua@aliyun.com, macheng772@aliyun.com, taowenhua_cn@hotmail.com
Copyright 1998-2016 Hengxin Advanced Materials Limited. All rights reserved
============================================================================================